The videos you loved on social media in 2016
Comments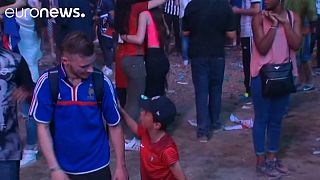 Euronews videos are watched tens of millions of times every month on Youtube and Facebook.
That's a lot of eyeballs and a lot of video! As we review the year, here's what our English-language audience has watched the most on our social media pages in 2016.
And for those curious to know what our Italian, Russian, Arabic and other language audiences have been most interested in, check out our round-up at the bottom of the page.
Most viewed on our Youtube channel
1. Emotional wedding Haka moves Maori bride to tears in New Zealand
3.4m views (at time of publishing)
2. $50,000 humanoid robot built from scratch in Hong Kong
940K views
3. Terrifying footage: Fatal, mid-air explosion blasts hole in Somalian plane
870K views
---
Most shared on our Facebook page
1. Football fan consoled by a child
Shared 304K times
2. Violent brawl in Turkish parliament
Shared 25K times
3. The Dalai Lama does his comedy routine
Shared 17K times
---
…and here's what our other language audiences have been watching in 2016:
French
German
Italian
Spanish
Portuguese
Russian
Ukrainian
Arabic
Persian
Turkish
Greek
Hungarian