Syria: dozens of civilians killed by ISIL attack in Al-Bab - Turkish army
Comments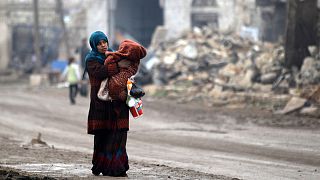 At least 30 civilians were killed and many more wounded in the northern Syrian city of al-Bab in an attack by the Islamic State group (ISIL) on Sunday, the Turkish army has said in a statement.
Ankara said ISIL launched the assault to stop people from fleeing the strategic town, which is some 30 kilometres south of the Turkish border.
Al-Bab has been the focus of an intense four-month Turkish offensive, called Operation Euphrates Shield, aimed at pushing back ISIL and Kurdish forces from areas near its border.
The Turkish army also announced that it had destroyed 140 ISIL targets on Sunday and a further 113 by early Monday, adding that 12 terrorists had been killed.