Russia: 92 killed as military plane crashes into Black Sea
Comments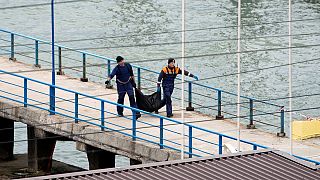 A Russian defence ministry plane, carrying 92 people on route to Syria, has crashed into the Black Sea near Sochi.
Fragments of the plane and several bodies have been recovered, with no reports of survivors.
Pieces of debris were found 1.5 kilometres from the coastal city of Sochi at a depth of 50-70 metres, the defence ministry said.
No survivors in #Tu154 plane #crash near Sochi — Defense Ministryhttps://t.co/ATgGLAFPl4

—

TASS

(@tassagency_en) December 25, 2016
The Tupolev-154 was carrying mainly musicians from the famed Alexandrov Ensemble (previously known as the Red Army Choir). They were on route to the Khmeimim air base near Latakia for a new year concert.
Most of the 84 passengers were members of the choir, along with nine journalists.
Charity activist Dr. Elizaveta Glinka was also among those on board, the Presidential Council for Human Rights confirmed.
Eight crew members were on the plane.
The defence ministry have published a passenger list online, along with a hotline number for information: (Ru) 8-800-100-18-86.
The TU-154 disappeared from radar a few minutes minutes after taking off near Sochi, where it had stopped to refuel, at 2.40 GMT.
Russian Transport Minister Maxim Sokolov said that all possible causes of the crash are being examined, including the option of a terror attack.
Glinka was awarded medal by Putin for humanitarian work. She said: "We're never sure we will come back" pic.twitter.com/wJuGD6miWy

— Andrey Davydov (@FarEasterner) December 25, 2016
SOURCES: TASS, INTERFAX, REUTERS