Russia lays to rest slain envoy to Turkey
Comments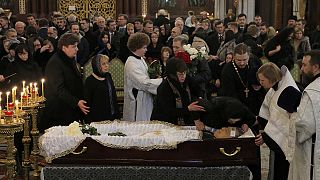 Christ the Saviour Cathedral in Moscow was packed with Russians paying their respects to slain ambassador Andrei Karlov on Thursday.
The head of the Russian Orthodox Church Patriarch Kirill led the funeral service, before the nation's envoy to Turkey, murdered in Ankara on Monday, was laid to rest.
A sombre memorial ceremony was held earlier in the day at the Russian Foreign Ministry. Prime Minister Dmitry Medvedev, President Vladimir Putin and Foreign Minister Sergei Lavrov attended.
Putin, who said he knew Karlov personally, posthumously gave him the Hero of Russia award – the country's highest military medal.
The President paid respects to Russian Ambassador to Turkey Andrei Karlov, killed in a terrorist attack in Ankara https://t.co/mzw5rCjGNPpic.twitter.com/SHFRtv8n5h

— President of Russia (@KremlinRussia_E) December 22, 2016
Karlov was shot dead at an Ankara art exhibit on Monday by a Turkish policeman claiming revenge over Russian involvement in the war in Syria.
Russia and Turkey have branded his assassination a failed attempt to derail their improving diplomatic relations.
Yet differences are emerging over the direction of the investigation. The Kremlin has distanced itself from Turkey's claim that followers of exiled Muslim cleric Fethullah Gulen were behind the killing.
Gulen has denied any involvement in the killing.