UN sends in more observers of "complicated" Aleppo evacuation
Comments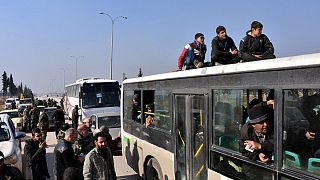 The evacuation of civilians and rebel fighters from eastern Aleppo could be completed within two days according to Turkey which helped mediate the exodus.
But with yet another interruption reported that could be unrealistic. The operation is being further complicated by unreliable figures of who has left and who is still in the city.
Numbers
Estimates of those who have been evacuated range from 37,000 according to Turkish officials, to only 25,000 (Red Cross figures.)
A rebel official said even after vast numbers left Aleppo on Monday, only about half of the civilians who wanted to leave had done so.
The UN which says more than 40,000 civilians and 10,000 rebels are still in the city, is to send 20 more staff to monitor the evacuation. The move was authorised by Syrian President Bashar al-Assad.
"We have had for several days already a monitoring mechanism. We have had people at the Ramussa crossing as you know, who've been able to observe what went on, and we do believe that this presence provide protection," UN Humanitarian spokesman Jens Laerke explained.
Ordered to leave
The Syrian army has reportedly called on the last remaining rebels to leave eastern districts of Aleppo.
Soldiers broadcast messages by loudspeaker on Tuesday (Dec 20), warning that they would soon enter the areas.
But insurgent fighters have said they will only leave once all the civilians who wanted to go had departed.
Diplomacy
Turkey is also attending three-way talks in Russia with Iran. Their respective foreign and defence ministers have adopted a document called the "Moscow Declaration" setting out principles that any peace agreement should follow. They also backed an expanded ceasefire in Syria.
UN Syria envoy Staffan de Mistura has also said he wants to reconvene peace talks in Geneva in February. The last round of UN-backed exploratory talks in Geneva, in March 2016, collapsed amid an intensification in fighting.
Last remaining rebels and civilians await Aleppo evacuation. https://t.co/0JiDVFKiA4

— The Associated Press (@AP) December 20, 2016