Jordan police seize 'arms and explosives' after Karak terror attack
Comments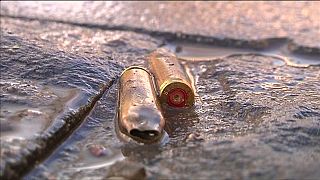 Jordanian authorities say they've seized weapons and explosives from a house used to plan terrorist attacks which led to ten people being killed on Sunday.
A Canadian tourist was among those who died in Karak.
But officials gave no details about the identity or motive of the four alleged assailants who were killed by security forces after being flushed out of a castle.
One security source told the AFP news agency that they were suspected of links to the self-styled Islamic State.
There has been no claim of responsibility for Sunday's attacks which killed seven police officers, two Jordanian civilians and a female Canadian tourist.
More than 30 people – police and civilians – were injured in the attacks in Karak, 120 kilometres south of Amman.
Situated on the King's Highway between the capital and Petra, it is one of the country's most popular tourist destinations.
Witnesses reported hearing sporadic gunfire in the vicinity of the citadel.
The violence has been roundly condemned in the Jordanian media. The country forms part of the US-led coalition fighting ISIL in Iraq and Syria.