Evacuation of rebel-held enclave in eastern Aleppo resumes
Comments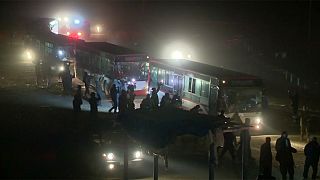 The evacuations of the rebel-held enclave in eastern Aleppo resumed late Sunday night after three days of delays.
Some of the thousands who have been waiting in desperate conditions were seen boarding the buses and ambulances.
Earlier, vehicles sent to take people out of government-controlled areas, besieged by rebels, were set alight, halting the latest evacuation deal. There is still no clear information if that operation has begun again.
The situation in the evacuation point while waiting to be continues #Aleppopic.twitter.com/PbdZLtY2us

— Mahmoud Rashwani (@MahmoudRashwani) December 18, 2016
The Syrian army and its allies have now said a convoy that had been delayed for hours had reached rebel-held al-Rashideen outside the city,
The chaos surrounding the exodus reflects the complexity of Syria's civil war, with an array of groups and foreign interests involved on all sides.
The United Nations agreed on Sunday on a compromise draft resolution on UN officials monitoring the evacuations from Aleppo. It will vote on the text Monday morning, New York time.