Evacuation buses burned out near Aleppo
Comments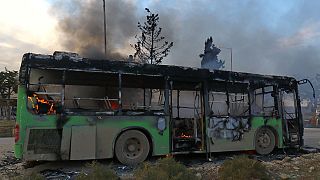 Several buses en route to evacuate sick and injured people from two besieged Syrian villages in Idlib province have been attacked and burned out.
The Syrian Observatory for Human Rights says three buses are said to have been attacked en route for al-Foua and Kefraya.
There are no reports of any casualties.
Some buses in the convoy have got through.
The arrangement was made as part of the deal to resume the evacuation operation in eastern Aleppo.
The operation began on Thursday but was suspended on Friday.
The coalition of forces fighting for the government of President Bashar al-Assad are demanding people be allowed to leave the two villages.
Rebels and civilians will reportedly be allowed to leave eastern Aleppo in exchange.
Rebels linked to al-Qaeda blamed for attacking buses involved in Aleppo evacuation deal https://t.co/mxr7yzraz5pic.twitter.com/eMgTtw2TKW

— Middle East Eye (@MiddleEastEye) December 18, 2016
Leaked video of FatehAlsham (JabhatAlnusra) as they burned the buses.#A24pic.twitter.com/oAsZeqF7uI

— Aleppo24 (@24Aleppo) December 18, 2016