At least five soldiers killed as clashes erupt in east Ukraine
Comments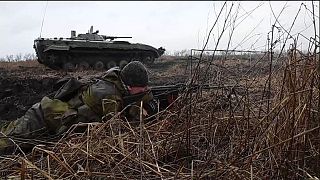 At least five Ukrainian soldiers have been killed in clashes with pro-Russian separatists, in one of the deadliest days of fighting since July, an army spokesperson has said.
According to officials, six soldiers were injured in the battle near Svitlodarsk in the east of the country. However, local volunteers are reporting the number of wounded could be higher.
The fighting lasted for two hours around the village of Kalinovka, near Debaltseve.
The city which lies on a vital railway junction was the scene of some of the fiercest battles between government forces and pro-Russian separatists in 2015, before a ceasefire was brokered, known as the Minsk agreement.
It comes as NATO countries and Russia are meeting in Brussels to discuss the conflict in east Ukraine. The NATO-Russia Council is convening for the third time this year with the crisis in Ukraine a top priority for Washington and Brussels.