NATO boss urges West to maintain pressure on Russia over Ukraine
Comments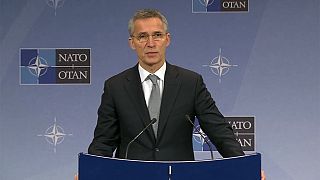 NATO Secretary-General Jens Stoltenberg urged the international community on Wednesday to maintain pressure on Russia over the Ukraine crisis.
He spoke as Ukrainian Foreign Minister Pavlo Klimkin was given a warm welcome at NATO headquarters in Brussels.
Stoltenberg said sanctions must remain against Russia and denounced a "massive increase in ceasefire violations" of the Minsk peace deal.
"I call on all parties to redouble their efforts to implement the Minsk agreements in full," he said.
"As a first step, we need to see an immediate and full ceasefire. In the meantime, the international community must keep pressuring Russia to respect its obligations, especially while the security situation in eastern Ukraine remains so serious. It is important that economic sanctions be maintained."
Disagreements have come to the surface as EU countries discuss an extension of sanctions.
The Minsk peace agreement, brokered by France and Germany and signed by Russia and Ukraine in February 2015, calls for a ceasefire between Ukrainian forces and separatists backed by Russia, the withdrawal of heavy weapons from the front line and constitutional reform to give eastern Ukraine more autonomy.
The conflict in eastern Ukraine has killed more than 9,600 soldiers, civilians and pro-Russian rebels since April 2014.
with Reuters