Aleppo evacuation finally gets underway
Comments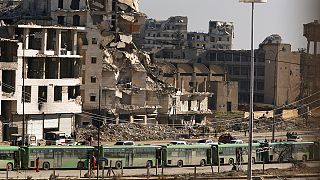 The evacuation of eastern Aleppo finally began on Thursday.
The International Committee of the Red Cross says, that as part of a ceasefire deal, some 200 wounded people, some in a critical condition, were being taken for medical attention.
#BREAKING: Operation to evacuate around 200 wounded, some critically, from east #Aleppo underway. We're on the ground with @SYRedCrescent.

— ICRC Syria (@ICRC_sy) 15 décembre 2016
It follows reports that an initial convoy of patients was shot at by fighters loyal to the Assad regime and at least one person killed.
"(Pro-government fighters) fired at us and at ambulance vehicles and those people opening up the road," a rescue service spokesman told Reuters, adding that one person died.
The editor of Channel 4 news in the UK, Ben de Pear, said the assault on the convoy was 'sustained and repeated'.
#Aleppo have watched the video; forget sniper fire the convoy of ambulances with injured on board comes under sustained and repeated fire

— Ben de Pear (@bendepear) 15 décembre 2016
The last rebel-held enclave of the city is being cleared following major advances by Syrian government forces, backed by Russian air power.
The defence ministry in Moscow said Russian soldiers would be leading rebels out, with Syria guaranteeing the safety of fighters and their families en route towards the northwestern city of Idlib.
The evacuation was due on Wednesday but despite a ceasefire deal, fighting continued.
SYRIA - A boy sits inside an ambulance as rebels & their families wait to be evacuated to gov-controlled area of Aleppo. By @KaramAlmasri25pic.twitter.com/JzPZNIREwe

— AFP Photo Department (@AFPphoto) 15 décembre 2016
Separately, 29 trucks and ambulances were headed to evacuate wounded people and families from the Syrian villages of al-Foua and Kefraya, which are besieged by rebels, state media said, citing the governor of Hama province.
On Wednesday, rebels attributed the hold-up of the ceasefire and evacuation of the insurgent-held part of Aleppo city to demands by Iran-backed militias that the wounded in al-Foua and Kefraya should also be taken to government areas.
with Reuters