Tomorrow is too late, mayor of east Aleppo calls on the EU to act
Comments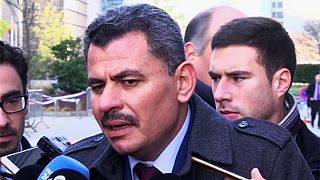 'More than words are needed to save civilians', the mayor of east Aleppo said as he arrived in Brussels to address the EU summit.
Brita Hagi Hasan (president of the East Aleppo local council) wants European countries to send monitors to ensure thousands of residents trying to flee the besieged Syrian city make it out safely.
Speaking to reporters outside the Council building, he issued a stark warning saying that 50,000 civilians 'are about to be victims of a general massacre. "Tomorrow is too late for Aleppo. We need a solution today from the European Union," he said.
Ahead of the summit he met with EU Council President Donald Tusk who invited him to address European leaders.
I met with BritaHagihasan</a> to discuss tragedy in Aleppo. Invited him to be heard by <a href="https://twitter.com/hashtag/EUCO?src=hash">#EUCO</a> leaders</p>&mdash; Donald Tusk (eucopresident) December 15, 2016
EU leaders were discussing the situation in Syria, though are unlikely to issue new sanctions on Russia over the violence in Aleppo. Arriving at the summit, French President Francois Hollande said he wanted EU leaders to issue a call for a ceasefire to allow the civilians and wounded to be evacuated.
Brita Hagi Hasan has been touring European countries in the past months, after leaving eastern Aleppo to go to Turkey in the summer. He has been conducting almost back-to-back interviews in the past few weeks in order to let the international community hear the voices of the 'women, children who die in eastern Aleppo,' he told French magazine Telerama. As an elected official in the rebel-held areas of the city, he says he wants to see president Bashar al-Assad gone. In an interview with American radio NPR he said, "this is a criminal, occupying regime, but there are vast zones that have already been liberated. And we will liberate the entire country one day."
In a sign of solidarity with the people of Aleppo, the Grand Place in the Belgian capital will turn off its festive lights between 7pm-7.30pm local time. It follows on from the French capital which turned off the lights on the iconic Eiffel Tour for the people of Aleppo on Wednesday.
La Grand-Place de Bruxelles s'éteindra jeudi soir en solidarité avec les victimes d'Alephttps://t.co/JPigTjR1rTpic.twitter.com/UMgiGVLeeW

— Le Soir (@lesoir) December 15, 2016
It comes from a citizens' initiative and was supported by the Brussels council.