Syria rebel group 'deprived us of food', say Aleppo civilians
Comments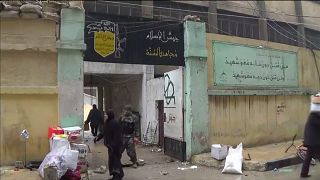 Local residents in one area of Aleppo recaptured by pro-government forces have accused rebels of depriving them of aid meant for civilians.
They (the rebels) did not allow us to eat even a piece of bread

Aleppo resident
They say they found food and other supplies in a school which Jaish al-Islam used as its headquarters in the district of al-Kalasa. The Saudi-backed group withdrew following the Syrian army's advance.
"They forbade us everything. There is no milk, there is no cooking, there is no meat, neither are there any lemons. They forbade us everything," said Hanan al Salem, a local woman who went into the abandoned building after the rebels' departure.
"They kept all these items here and there," added another resident, Amer Saleem, as he pointed out different parts of the building. "They did not allow us to eat even a piece of bread. We died out of hunger and on many nights we went to sleep hungry."
Other civilians complained of soaring prices of basic goods – a kilo of sugar costing the equivalent of 16 US dollars – due to their scarcity.
The rapid collapse among rebels opposed to pro-government forces has been partly attributed to rival opposition groups fighting each other.
Jaish al-Islam has been accused of committing atrocities against civilians and has been designated a terrorist group by Damascus and Moscow.
The al-Kalasa district is one of four neighbourhoods in which pro-government forces have been accused of deliberately shooting dead civilians, according to the United Nations human rights office.
Who is controlling where in #Aleppo?https://t.co/YHNEBpZ3impic.twitter.com/B3WAmH0X6r

— euronews (@euronews) December 14, 2016
Watch: Syria, Russia and the USA at the UN