Iraq tries to reassure over gruelling Mosul campaign
Comments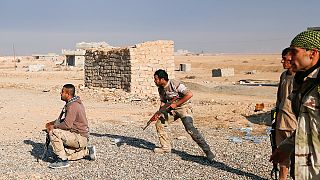 With the battle to crush ISIL in its Iraqi stronghold of Mosul now in its ninth week, the government is trying to play down concerns about the slow pace of progress.
Elite troops have retaken a quarter of the city but they are facing fierce resistance from the extremist group also known as Daesh.
Visiting the frontline on Monday as thousands of police readied to join the offensive, Prime Minister Haider al-Abadi tried to ease fears, saying the recapture of cities such as Ramadi and Baiji from ISIL had taken four times longer than the Mosul campaign so far.
Speaking directly to the people of the city, Abadi said:
"We are coming to liberate you. Rest assured, it is a matter of time. Time is on our side. We will eliminate Daesh. They have no place among us. I ask you to receive and greet the Iraqi forces, as people have done in the liberated areas."
They stoned a woman to death and forced a neighborhood to watch. Dark times in Islamic State group rule over Mosul. https://t.co/9WKVR2EEMd

— The Associated Press (@AP) 13 décembre 2016
Abadi said the United States and other allies must continue to support Iraq's battle against what he said was a global threat posed by the militants.
The prime minister, who spoke to Donald Trump last month, said the president-elect promised "not just to continue American support but to increase it".
Tens of thousands of people have been displaced from Mosul and nearby towns and villages by the fighting. The International Organisation for Migration (IOM) puts the figure at 93,576.
Total number of individuals currently displaced due to Mosul operations: 93,576, with over 78% from Mosul district alone. @DTM_IOMpic.twitter.com/W4Vp7Nz28H

— IOM Iraq (@IOMIraq) December 13, 2016
Fleeing #Mosul: Five photographers document the flow of refugees escaping the #Iraqi city https://t.co/bS5w2fJZmL@ivorprickett

— UNHCR Iraq (@UNHCRIraq) 10 décembre 2016
"In 2014, ISIL took everything we had,destroyed our house & forced us to leave Bartilah to Gogjali, Mosul. My husband shortly died of grief" pic.twitter.com/iBQdoczQAu

— IOM Iraq (@IOMIraq) 12 décembre 2016
Despite the gruelling US-backed campaign, some of those displaced have decided to return to their neighbourhoods. Security forces say people can choose whether to head home and that advice on safety is given.
While some wrestle with that decision, many thousands more are trapped in Mosul, held by ISIL as human shields.
In all, 1 million people are likely to be still living in areas of the city held by the so-called Islamic State group. And, with the militants largely sealed off, civilians are enduring increasingly siege-like conditions, with shortages of fuel, food and water as winter sets in.
with Reuters