Kyrgyzstan voters approve constitutional changes in referendum
Comments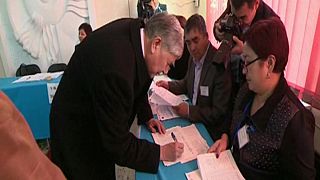 Kyrgyzstan has voted overwhelmingly in favour of constitutional changes boosting the power of the prime minister.
Opponents say the move is aimed at getting President Almazbek Atambayev into the post when his term ends.
The Central Asian nation's constitution bars him from running for a second term when his mandate ends in 2017.
The amendments allow the prime minister to appoint and dismiss Cabinet ministers and regional governors without consulting the president. The prime minister will also have a decisive say in shaping the government budget.
Atambayev's supporters cast the amendments as part of efforts to increase the power of parliament and strengthen checks and balances between branches of government.
The amendments also envisage a ban on same-sex marriages.
Around 80% of a 42% turnout supported the package.
Kyrgyzstan, an impoverished and mostly Muslim nation, has been volatile in recent years and was the scene of violent protests in 2005 and 2010 which toppled successive presidents.