Syria's army pauses military operations in Aleppo - Russia
Comments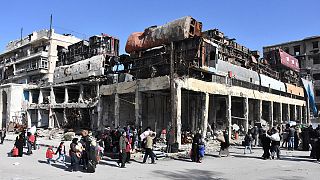 Syria's army has suspended "active" military action in eastern Aleppo, according to Russia's foreign minister.
It is reportedly to allow thousands of civilians to leave rebel-held territory.
But journalists in one government-held part of the city said bombardment could still be heard after Sergei Lavrov's comments were published.
Russian and US military experts are due to meet in Geneva on Saturday to discuss the situation in Aleppo.
Lavrov explained: "An agreement has been reached to hold a meeting on Saturday in Geneva between our military experts and diplomats, in order to finalise the work that has somewhat sporadically continued over all these days on a document that would determine ways and means of reaching a final solution for the eastern Aleppo problem, by ensuring the withdrawal of all militants as well as civilians who would want to leave."
US Secretary of State John Kerry says he's "hopeful" about reaching an agreement, but is awaiting "certain feedback and input" from Moscow.
The last two weeks have seen rebels driven from most of their territory in Aleppo, what was once Syria's largest city.
"For now there are 150,000 who are condemned to death. (We demand) a safe corridor for the civilians and to stop the shelling and to stop the bloodshed," said Brita Haji Hasan, President of Aleppo City Council.
Syrian President Bashar al-Assad has vowed that retaking Aleppo would change the course of the six-year-old war.
The prospect of that, following months of government gains elsewhere, bringing him closer to victory than at any other point in the conflict.