Syrian forces reject rebel call for truce in Aleppo
Comments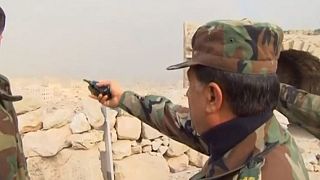 Syrian army officers inspect the Old City of Aleppo after regaining full control of it as retreating rebels call for an immediate five-day truce.
Government forces and allies have recently made rapid gains against insurgents and have rejected the idea of a ceasefire unless rebels leave the rest of Aleppo.
Syrian rebels are continuing to fight despite being pushed into an ever shrinking area of the eastern part of the city.
The conflict has caused thousands of civilians to flee into government controlled areas in search of food.
The rebels say they want a short truce to evacuate 500 critical medical cases.
AUN official said on Wednesday (Dec 7) about 31,500 people from east Aleppo had been displaced around the entire city over the past week, with hundreds more seen on the move.
With hospitals, clinics, water and food cut off, UN chief Ban Ki-moon said the situation was "heart-breaking."
We continue to call for full access so we can deliver lifesaving assistance to the people of #Aleppopic.twitter.com/KV86IygFom

— UN Refugee Agency (@Refugees) December 4, 2016
Damascus and ally Moscow say they will assist with humanitarian relief once the rebels have disarmed and withdrawn.
#Aleppo : Syrian army Help civilians and children to exit from Marja district in east Aleppo pic.twitter.com/EWNJNWazP3

— Yusha Yuseef (@MIG29_) December 7, 2016
Outside of Aleppo, the government and its allies are also putting severe pressure on remaining rebel redoubts.
"The decision to liberate all of Syria is taken and Aleppo is part of it," President Bashar al-Assad said in a newspaper interview, according to pro-Damascus television station al-Mayadeen. He described the city as the "last hope" of rebels and their backers.
On the diplomatic there have been talks between the US and Russia on the fringes of a two-day European security and cooperation (OSCE) meeting in Hamburg.
But with the Syrian regime sensing a pivotal victory in Aleppo, Washington and opposition allies appear to have fewer negotiation cards to play.