Iraqi army withdraw from Mosul hospital amid fierce fighting
Comments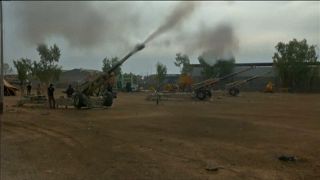 The Iraqi army pounds ISIL positions in Mosul, as it continues its campaign to drive the extremists from the city.
Troops who briefly captured a hospital, believed to be an ISIL based were forced to retreat, but managed to establish a base nearby following days of fierce fighting in the east of the city.
They were forced to pull back after coming under 'heavy enemy fire' and were attacked by six suicide bombs, according to a statement by the US-led coalition supporting the Iraqi soldiers.
Men suspected of working for ISIL militants are rounded up in the El Elam neighbourhood. A lieutenant with the special forces said they arrested ten people suspected of collaborating with the group.
Now into its seventh week, the offensive is pushing from the southeast towards the centre of Mosul.
In light of the heightened danger posed by intense fighting, thousands of civilians are fleeing and the UN is struggling to find shelter for the displaced amid fears for the safety of more than one million people who remain inside the city.