Syrian forces capture key parts of rebel-held eastern Aleppo, state media says
Comments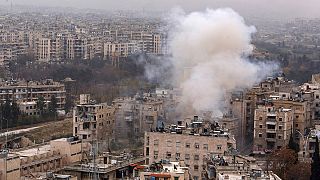 Syrian government forces have seized several areas of eastern Aleppo, including the key-rebel-held district of Al Sharr, state media and monitors are reporting.
If true, it represents a major advance for President Bashar al-Assad and means Syria's army now controls nearly 70 percent of the east of the battle-worn city having retaken about two-thirds of opposition held areas over the past week.
The rapid gains appear to have left rebel fighters scrabbling to defend the territory they still hold.
The offensive is also thought to have displaced tens of thousands of civilians with both Damascus and Moscow vowing to wipe out any remaining resistance.
Despite the dire humanitarian situation inside Aleppo, on Monday both Russia and China blocked a draft UN resolution demanding a seven-day truce in the city to evacuate the sick and wounded and allow vital aid to get in.
Russia's ambassador argued that any lull in the violence would allow rebels to regroup.