France's Cazeneuve officially takes over as PM
Comments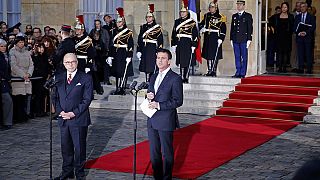 France's new prime minister Bernard Cazeneuve has officially taken office during a handover ceremony in Paris.
Moving from the post of interior minister, he replaces the outgoing Manuel Valls, who has stepped down to focus on running for the presidency.
Cazeneuve will remain in charge until legislative elections next year.
Thanking Valls, Cazeneuve said: ''There are a few months left and you are better placed than anyone to know that everyday is useful, everyday counts. Therefore we will use all these days and months ahead of us to strengthen the Republic, strengthen France in order to confront the challenges that the country faces.''
Cazeneuve, who oversaw France's response to the recent terror attacks in Paris and Nice, is not expected to carry out a major government reshuffle.
Valls tendered his resignation on Tuesday morning having earlier announced his intention to run for the Socialist Party's nomination for the presidential election next year.
The move follows President Hollande's decision last week not to run for a second term.
Hollande is France's most unpopular leader in modern history and the first incumbent since the late 1950s not to seek re-election.