Rome reacts to the vote against Renzi's reforms
Comments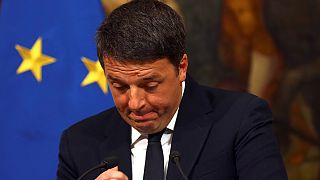 Italians have woken up to political instability and the threat of a banking crisis.
The Eurozone's third largest economy has delivered a stinging blow to Prime Minister Matteo Renzi and his plans for constitutional reform.
But some people in Rome were hopeful, nonetheless.
Alessandro Angelini told reporters:
"In my opinion, nothing particular will happen, it's just like the 'Trump effect.' The same thing will happen here. Things will carry on as always but let's hope something changes nonetheless."
"I voted 'No'. So let's see what the situation is. At the moment it seems very confused. I don't see an alternative from a political point of view. I don't know what scenario awaits us. I'm a bit sceptical. There are few positive prospects at the moment," added Giovanni di Giorgio.
"I hope things get better. Until now they have ruined us, with the Fornero Law (pension reforms). It's been terrible, especially for our young people it's been a disaster. Let's hope things get better," said Luigi Canotta.
For voters casting their ballot outside Italy, the 'yes' vote won, but overall the result was a clear 'no'. An overwhelming 60 percent of voters were against the reforms. Turnout stood at 68.48 percent.
Beppe Grillo's populist Five Star Movement says it is ready to govern Italy. It and other opposition groups are calling for early elections. However, analysts say Renzi is likely to stay on until the end of December at least.