Italian PM to quit after voters reject his constitutional reforms
Comments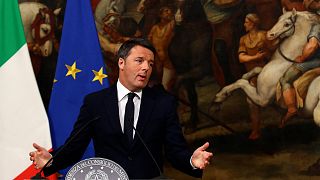 Italian Prime Minister Matteo Renzi is to resign following a heavy defeat in Sunday's constitutional reform referendum. Although ostensibly on plans to streamline parliament the poll was largely seen as a confidence vote in the leader. Renzi announced his intention to quit in an address to the nation.
"I take full responsibility for the defeat"

Italian Prime Minister
"My government's experience ends here. I believe that in order to change this political system, in which leaders remain the same and switch different positions, but don't change the country, we cannot pretend for an umpteenth time that everything remains as before. They don't change their habits and they will never leave their seats. I wanted to cut extra seats, but I didn't succeed. Therefore, it is my seat which is becoming vacant."
Exit polls have projected a convincing defeat for Renzi and the "yes" camp, by as much as 20 points.
Most opposition parties were against, with the anti -establishment Five Star Movement leading the way,
tapping into a strong populist mood. The party whose head is Beppe Grillo, wants a referendum on whether Italy should keep the euro.
Renzi will formally offer his resignation to President Sergio Mattarella on Monday.
It was clearly a major mistake by Italy PM Renzi to make it a vote about himself. It backfired very heavily. pic.twitter.com/amuQUpkRgj

— Carl Bildt (@carlbildt) December 4, 2016
So much for that Austria vote.
With Italy referendum it's only more downward spiral for Europe.

— ian bremmer (@ianbremmer) December 4, 2016
The result represents a fresh blow to the European Union which is struggling to overcome an array of crises and was eager for Renzi to continue his reform drive in the euro zone's heavily indebted, third-largest economy.
---