Watch: Met. Police stage 'festive' Mannequin Challenge with a serious message
Comments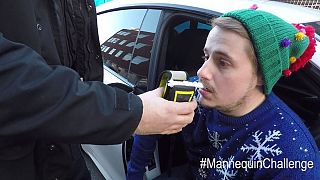 London's Metropolitan Police Service got involved with the 'Mannequin Challenge' trend today, posting a video to their official Twitter account showing officers frozen like statues.
The video was not just for fun, however, as it also depicted a casualty being resuscitated, having been hit by a drunk driver.
The scene served to warn drivers about the dangers of drink & drug driving during the Christmas period.
A message was posted with the video which read: "We are continuing to tackle drink & drug drivers, particularly during the festive period, & are using the #MannequinChallenge to remind motorists of the dangers of being intoxicated when driving."