France confirms second case of bird flu in a week
Comments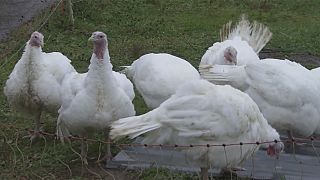 France has confirmed its second case of bird flu in less than a week.
Ducks on a farm in the south-west of the country were affected, according to France's farming ministry.
Another outbreak was detected among wild birds in northern France earlier this week.
France, which has the largest poultry flock in the EU, is still recovering from a severe bird flu epidemic in south-western France earlier this year, which lead to a total halting of duck and geese output in the region and import restrictions from trading partners.
There have been other recent bird flu outbreaks in the Netherlands, Germany and Switzerland.
The H5N8 virus has never been detected in humans but it led to the culling of millions of farm birds in Asia, mainly South Korea, in 2014 before spreading to Europe.