Civilians flee rebel-held eastern Aleppo as Syrian regime tightens grip
Comments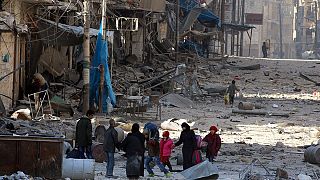 Men, women and children are fleeing the frontline in Aleppo as fierce fighting in the war-shattered Syrian city intensifies.
Carrying what they can, thousands in the rebel-held east are making their way to either Kurdish-controlled or government territory. Some are moving deeper into remaining rebel-held areas.
The mass departure comes as the Syrian army and its allies announced the capture of a swathe of eastern Aleppo from rebels in an accelerating attack that threatens to crush the opposition in its most important urban stronghold.
Food handouts are being provided to the displaced by the Syrian regime and their Russian allies, which have focussed their joint firepower on retaking the whole of Aleppo, with devastating effect for those under the bombs.
#Syria: the number of children living under siege has doubled in less than one year pic.twitter.com/DEhJVPKQEq

— UNICEF (@UNICEF) 27 novembre 2016
The government sent buses to take fleeing families to safety in shelters from eastern Aleppo where crisis conditions are getting worse by the day.
"The only food is bad bread. Every family only has six bread sticks. Children are starving. We are finally getting out," said one elderly man on a bus.
Another older man said that sometimes rebels wanted residents to leave and other times asked them to stay.
"They have controlled us."
"We are afraid. There is no food and I don't know anyone here. I was trapped when I visited my daughter," an elderly woman said as she was driven to safety on a bus.
Western states have condemned the bombing campaign that has killed hundreds of people since the major offensive to recapture Aleppo was launched in September.
Residents of besieged East #Aleppo give a clear message: we want to resume our normal lives https://t.co/5SvUZBDrCrpic.twitter.com/dzcqOIZTgc

— UN Refugee Agency (@Refugees) 26 novembre 2016