Lufthansa pilots extend latest pay strike until Saturday
Comments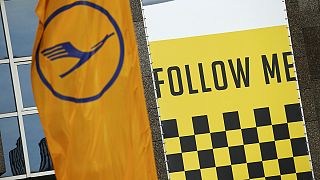 Lufthansa pilots in Germany have said they will extend strike action again until Saturday, this time targeting long-haul flights in a long-running pay dispute.
It follows a previous announcement continuing the stoppage through Friday which is due to affect short and medium-haul flights.
The airline has already grounded nearly 1,800 flights since the strike began on Wednesday. It had originally been planned as a 24-hour walkout but has been extended three times.
Travel plans for more than 300,000 passengers have been disrupted. A quarter of Lufthansa's schedule for short and medium-haul flights are due to be cancelled on Friday, some 830 in total.
The main union representing pilots has accused Lufthansa of exaggerating a warning about the carrier's future if pilots' wages are raised.
A company board member said the first two days of strike action had cost the airline about 20 million euros.
Lufthansa insists that despite a record profit in 2015, it has no choice but to cut costs to compete with rivals such as Ryanair on short-haul flights and Emirates on long-haul.
This is the pilots' 14th walkout in under three years. The union wants a 3.7 percent pay rise over five years from 2012; Lufthansa has offered 2.5 percent over a six-year period until 2019.