Trump disavows alt-right conference after online video of Nazi salutes in his honour
Comments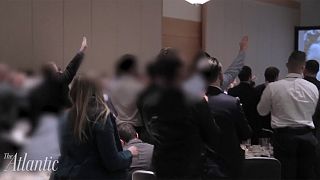 Under pressure to strongly condemn the actions of a so-called 'alt right' group who celebrated Donald Trump's election with Nazi salutes, the president-elect told the New York Times he 'disavows' the conference in Washington.
Despite tweeting three times about his vice-president being booed at the theatre, Trump had previously issued a tame response in an official statement from his team saying he "continued to denounce racism of any kind."
In a video shot over the weekend by a reporter from the American magazine the Atlantic, members attending the white nationalist annual conference of the National Policy Institute, respond to calls of Hail Trump with Nazi salutes.
The leader Richard Spence told the audience, their movement would be the 'intellectual vanguard' of the Trump administration.