Trump lays out his plans for first 100 days
Comments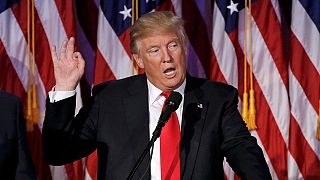 Donald Trump has released a video message outlining his policy plans for his first 100 days in office.
The President-elect's proposals included measures on jobs, trade, energy and immigration.
" On energy, I will cancel job-killing restrictions on the production of American energy, including shale energy and clean coal, creating many millions of high paying jobs," Trump said.
While Trump made no mention in his message on repealing Obamacare or building a wall along the the southern border with Mexico, he vowed to stop visa fraud and to create a plan to counter cyber attacks.
"On national security, I will ask the Department of Defence and the chairman of the Joint Chiefs of Staff to develop a comprehensive plan to protect America's vital infrastructure from cyber attacks and all other forms of attacks.''
The proposals, which can be signed by Trump upon taking office, are seen as fairly straightforward inside Washington as they do not require congressional approval.