Shia militia in Iraq move to cut off Mosul supply route
Comments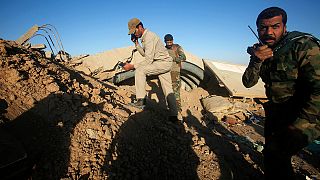 Days after seizing an air base south of Tal Afar, Iranian backed Shia militia in Iraq are moving to encircle the city in an attempt to finish off the job.
If successful, the offensive would choke off a main supply route to Mosul, ISIL's last major stronghold in the country.
Tal Afar remains a strategically vital link in the chain of the jihadist group's self-declared caliphate.
Mosul is already surrounded to the north, south and east by Iraqi government and Kurdish Peshmerga forces and cutting off the western road would seal off the northern city.
But the offensive on Tal Afar, which lies close to the Turkish Syrian border, could draw in Turkey, which fears Iranian backed paramilitary groups taking it over.
Elsewhere, there were desperate scenes in parts of Mosul, newly liberated from ISIL control, as locals scrambled for food sent by the Iraqi government.
The lack of organisation and resultant chaos is thought to have left many people without provisions.