NATO chief Stoltenberg calls for military alliance to enlarge
Comments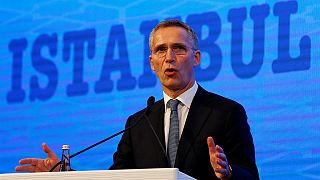 NATO Secretary-General Jens Stoltenberg has urged member states to enlarge the military alliance by ratifying the accession of Montenegro during a summit in Istanbul.
Stoltenberg also demanded countries meet their financial commitments after recent warnings from US President-elect Donald Trump, that some allies must pay more.
Jens Stoltenberg, NATO Secretary General said:
"Parliaments actually decide who is going to be member of NATO. And you know that we are now in the process of inviting, the process of enlarging NATO with a new member, Montenegro.
So I urge those parliaments, I urge those countries that have not yet signed, sorry, ratified the accession of Montenegro, to do so."
During his election campaign, Trump described NATO as ''obsolete'' and said, if he won, the US would think twice about coming to the aid of a NATO ally under attack if it had not met the alliance's commitment to spend 2 percent of GDP on defence.
Meanwhile, President Recep Tayyip Erdogan slammed Europe for not doing enough to help Turkey tackle terrorism.
Calling for increased cooperation in Ankara's fight against Kurdish separatists, Erdogan said: "As a country that suffers from terrorism, we cannot tolerate the fact that PKK members freely travel in European countries and walk through the corridors of the European Parliament carrying posters of the terrorist PKK leader (Abdullah Ocalan)."
Erdogan's comments hint at increased tensions between Ankara and its military allies.
Last week, Stoltenberg said a number of Turkish officers serving with NATO in Europe had sought asylum following Turkey's failed coup in July.
The countries involved are expected to consider the cases individually.