Egyptian Journalists Union head sentenced to two years in jail
Comments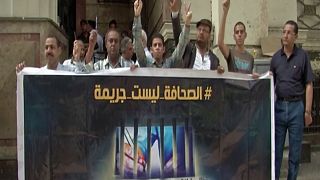 An Egyptian court has sentenced the head of a journalists' union to two years in prison, a ruling condemned by rights groups.
Yehia Qalash was sentenced alongside two board members for harbouring colleagues wanted by the law and spreading false news stories, according to judicial sources.
It relates to a police raid on the Egyptian Journalists Syndicate to arrest two opposition journalists seeking shelter from arrest, which had sparked protests in May.