Renewed airstrikes on Aleppo kill at least 20 people, including children
Comments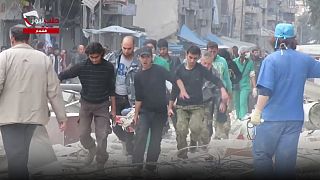 In Syria, government forces have pounded Aleppo for a second day, killing at least 20 people, monitors and medics say.
The intense airstrikes reportedly hit near a children's hospital and a school in rebel-held areas of the city.
The renewed bombardment, the first in more than two weeks, appears to signal the start of a major new government offensive on Aleppo.
The British based Syrian Observatory for Human Rights said at least five children were killed. Helicopters dropping improvised barrel bombs were also reported.
On Tuesday Syrian state TV said government warplanes had taken part in strikes against terrorist strongholds in Aleppo's Old City.
While, Russia has denied reports that it hit the northern Syrian city, it did say missiles and jets were launched from its aircraft carrier the Admiral Kuznetsov, against ISIL and former Al Nusra Front targets in Idlib province.