Israel backs draft bill to legalise settlements
Comments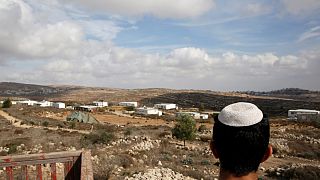 Israel's parliament has approved a draft bill to legalise thousands of Jewish settlements on privately-owned Palestinian land in the West Bank.
Washington has described the move as troubling, saying it could pave the way for dozens of outposts without Israeli government authorisation.
The vote in the Knesset passed by 57 to 52 votes.
Prime Minister Benjamin Netanyahu is said to have initially tried to stall the measure pushed by right-wing members of his government, fearing an international backlash and legal implications.
On Sunday, Israeli settlers demonstrated for MPs to approve the bill and for the evacuation of the disputed outpost of Amona to be halted.
The measure must now pass through three readings in parliament and also be ratified by the Supreme Court before it can become law.
If approved, critics, say the measure will apply to thousands of settlements currently considered illegal and also permit, what they call the ''theft'', of any Palestinian owned land.