Kurdish forces catch ISIL militant in Bashiqa
Comments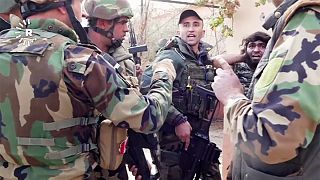 Kurdish forces have caught a militant from the so-called Islamic State in Bashiqa according to footage released today. The capture, which took place last week, is part of their continued efforts to reclaim the town of Bashiqa and move forward to free Mosul, Iraq's second-largest city, from occupation.
Bashiqa, is located about 13 kilometres northeast of Mosul. It is believed the area has been deserted with only dozens of Islamic State group fighters remaining.
Before the town had been predominately inhabited by the Yazidi religious community, as well as a large Christian population.
Meanwhile in the city of Karbala, a suicide bomber has killed six people and injured several others on Monday. Hundreds of Shi'ite Muslims were gathered in the city to mark the start of the major Shi'ite Muslim ritual of Arbaeen.
Iraqi security forces confirmed that they killed five other attackers before surrounding the sixth bomber who entered a home and detonated an explosive device.
The attack comes of the heels of the announcement by Iraqi special forces that they have cleared the Qadisiya and Zahra neighborhoods of Mosul and are making significant advances.