Moldova muses on future as presidential vote gets underway
Comments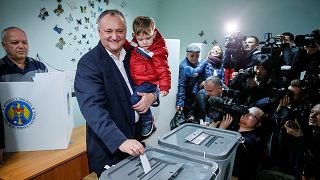 Moldova goes to the polls for a second time to elect a president after the first vote failed to deliver a majority for either candidate.
The choice for Moldova, one of the poorest countries in Europe, is clear.
Igor Dodon is pro-Russian he is determined to re-establish a strategic partnership with Russia.
#Moldova Pres Election results put Igor Dodon (48%) and Maia Sandu (38%) neck and neck. Second round on 13 Nov. https://t.co/qZy2DMODgMpic.twitter.com/2P5huyS0ZJ

— Sam van der Staak (@samvanderstaak) October 31, 2016
The former finance minister garnered 47 percent of the vote in the initial ballot and opinion polls put him way ahead in the run-off.
He is up against pro-EU candidate Maia Sandu, formally of the World Bank.
She is battling against a furious Moldovan electorate after a banking scandal saw $1bn disappear from the financial sector in a scam involving corrupt politicians and bankers.
Ahead of key a presidential runoff #election, the #IMF has approved a $180 million loan to #Moldova: https://t.co/8974rU0BX7pic.twitter.com/gWRypaXVqC

— Agnia Grigas (@AgniaGrigas) November 8, 2016
The perception is Moldovans blame the pro-EU elite for the crime.