From third wife to First Lady, Melania's hometown celebrates Trump's victory
Comments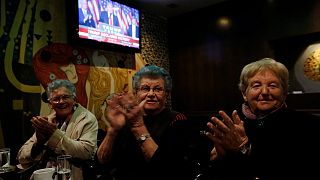 She will be the first third wife to call the White House home.
Melania Trump is America's new First Lady, and in her hometown of Sevnica everyone was glued to the television to cheer her on.
The mayor gushed that they are happy to see Melania doing so well. He added that they supported Trump's candidacy and Melania who supported her husband.
Growing up in communist Yugoslavia, her friends say she had always dreamed big.
"As a child Melania was very creative and innovative already, and in that sense Sevnica was just too small for her. She always said she wanted to go to (Slovenia's capital) Ljubljana to study at the design school there. She had a lot of potential, lots of skills, and I believe that is why she found her path to success abroad," said childhood friend Mirjana Jelancic.
With a population of less than 5,000, Sevnica is getting comfortable with its newly-found fame.
On the campaign trail, Melania tended to shy away from the spotlight, especially after making a speech that appeared to borrow heavily from Michelle Obama, the woman whose shoes she now has to fill.