Syrian army seizes key Aleppo area, but rebels say battle continues
Comments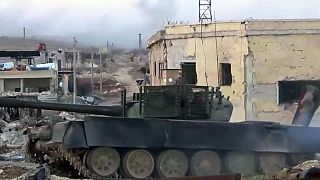 The Syrian army says it has seized a key strategic zone near Aleppo, despite rebels insisting the battle is not over.
The 1070 Apartments district is located on the southwestern outskirts of the city.
Seen as one of the biggest advances in weeks, Syrian military sources said the army and allied militia were in complete control of the area and surrounding hills.
That claim was also backed by the Syrian Observatory for Human Rights, a UK-based group that reports on the civil war, though officials from two rebel groups said fighting was still raging.
The latest developments in the battle for Aleppo come as Russia's Interfax news agency reported Moscow was preparing to resume air strikes around the Syrian city.
On Monday the Kremlin said it would maintain a moratorium on strikes in Aleppo unless militants launched an offensive.