US election: Trump makes his last pitch to voters
Comments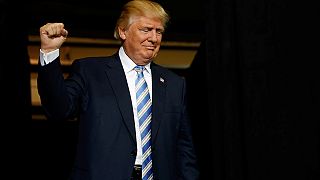 On the final day before the US election Donald Trump has made his last pitch to voters. Polls show a tight race, though tilted towards Trump's Democratic rival Hillary Clinton, suggesting the New York businessman has it all to do.
Barring a miracle, Florida will be crucial to outcome, and that is where the Republican nominee kicked off his last push on Monday to win the White House.
"Florida is my second home. A state I love so much, and by the way, Hillary, once this is over, she'll never come. In one day, we are going to win the great state of Florida and we are going to take back the White House. With what's happening with our justice, our country is a laughing-stock all over the world, they're laughing," Trump said.
Last month Trump drew widespread criticism for claiming the election was rigged, something he once again claimed in Florida, as he lashed out at his rival after the FBI said it was bringing no criminal charges.
In addition to Florida, Trump was set to blitz the key battlegrounds of North Carolina, Pennsylvania, New Hampshire, ending with a late night rally in Michigan.