Opposition socialist wins Bulgaria's presidential first round
Comments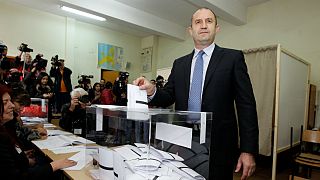 Opposition socialist Rumen Radev appears to have narrowly won the first round of presidential elections in Bulgaria.
Partial results have him on around 24 % of the vote.
In his campaign, Radev tapped into public anger with political elites and a fear of migrants, saying on Sunday that he would "not allow Bulgaria to become the migrant ghetto of Europe." His win also raises the prospect of a shift towards Russia.
Ruling conservative candidate Tsteska Tsacheva came in second but only around two points behind.
Prime Minister Boiko Borisov has vowed to resign if Tsacheva loses the run-off.
"Today Bulgarians said no to apathy and voted for change. We have to see the final results, but it is now clear that people have taken democracy in their hands because it belongs to them," said Radev
In Bulgaria the role of president is largely ceremonial but he or she can influence public opinion, veto legislation and lobby for policies.
Radev is calling for an end to sanctions against Russia and for a rethink over international alliances.
He is also against EU refugee quotas adding to growing opposition within the bloc.