'Moral crisis' could 'destroy' EU, warns Bulgarian president
Comments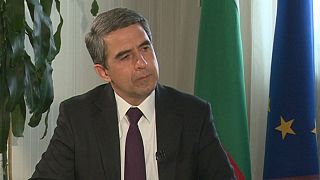 In this edition of The Global Conversation, Bulgarian President Rosen Plevneliev talks migration, Ukraine and relations with the European Union and Russia.
The biggest crisis that will destroy all of us could be the moral crisis, the crisis of lack of solidarity within the European Union, the crisis of forgetting who we are
The country joined NATO more than 12 years ago. It also later joined the EU, despite its long alliance with Russia.
On a recent visit to Kyiv, Plevneliev was presented with a "Person of the Year" award.
The president spoke to euronews' Andrei Beketov in Sofia.
Andrei Beketov, euronews: "This award was given to you for your 'contribution to the defence of Ukraine's sovereignty and integrity.' Yet Russia continues to hold Crimea and it hampers Ukraine's integration with the EU."
Rosen Plevneliev, Bulgarian President: "Of course I worry about Russian behaviour – not just in Ukrainian crisis but generally. We see Russia that is telling us that they have their ambitions as a world power and they have their spheres of interest that have to be respected. But I think that this is a very wrong policy which has to stay back in the 19th century.
"Nations should not be strong with their armies of soldiers and nuclear weapons. In the 21st century nations should be strong with the success of the people."
---
Biography: Rosen Plevneliev
Rosen Plevneliev was born on 14 May 1964 in the town of Gotse Delchev
He studied at and graduated from the Technical University in Sofia as a computer engineer
Between 1990 and 1998 he was a founder and

CEO

of

IRIS

International

LTD

and managed more than 80 construction projects in Germany
He was appointed a Minister of Regional Development and Public Works after the Bulgarian parliamentary elections, held in July 2009
Plevneliev was elected President of the Republic of Bulgaria following elections in October 2011
He has served as the fourth democratically elected Bulgarian president since 22 January 2012
---
euronews: "Previous recipients include Pope John Paul II, Presidents of Poland, Georgia (Saakashvili) and Lithuania (Gribauskaite), a former NATO chief, and US Senator John McCain. How does it feel being part of such a group?"
Rosen Plevneliev: "I want to be a friend with everyone. And I want to be a friend with Russia. I love Tchaikovsky and his music, and I love Dostoyevsky and his writings. I love Russian culture. We love Russian people.
"But we cannot agree – as proven democrats – when Kremlin today is violating international law and international order. We cannot agree with frozen conflicts."
euronews: "Russia used to be a very important market for Bulgaria. But since it introduced an embargo in response to the EU sanctions. How much of a loss is this for you?"
Rosen Plevneliev: "Well, we have significant losses. Just look at the Bulgarian agriculture, the Bulgarian tourism. But yes, Bulgaria stands for the sanctions.
"When we have to take bold political decisions about preventing future instability in Europe then money is not a factor."
euronews: "What do you think of energy security?"
Rosen Plevneliev: "We depend on Russian gas supplies big time. And we are working on alternatives. We will see the gas interconnector between Bulgaria and Romania to be finished.
"We have agreed with our friends in Greece about starting the gas interconnector. One of the most important engines, let's say, to trigger the new engine of integration is the European energy union."
euronews: "This award that Ukraine gave to you is also for 'respect of European values'. Out of solidarity, out of humanity, out of discipline would Bulgaria accept migrants according to the quotas the EU might impose?"
Rosen Plevneliev: "Yes, we agree with a formula to redistribute migrants and we will take those migrants. And yes we contribute to the common European solution."
euronews: "Human Rights Watch is flagging 'pushbacks, abuse at borders, beatings and robbery of asylum seekers…'"
Rosen Plevneliev: "If there are such signals – it could be Human Rights Watch, could be the United Nations refugee organisation – the Bulgarian institutions will take very seriously every one of them."
euronews: "Are you fully supportive of the (EU) deal with Turkey which provides for acceleration of accession process and liberalisation of visas for Turkey?"
Rosen Plevneliev: "You cannot guarantee security if you make yourself as a castle with big walls, and you are not interested in everything around you. This is a very wrong strategy."
euronews: "And yet you are building or rebuilding the barbed wire fence along the border with Turkey…"
Rosen Plevneliev: "Bulgaria is building – just partially – a temporary equipment, a temporary fence just in order to serve temporary means."
euronews: "Does it makes sense (for you) to join the Schengen zone while these temporary measures exist?"
Rosen Plevneliev: "I stand firmly against building walls between the European member states. Schengen is the dream of 500 million Europeans to travel without borders."
euronews: "The migrants perhaps are also discouraged by internal problems of Bulgaria. For instance you are unfortunately the poorest country in the EU. And also (the) European Commission keeps reminding you of 'setbacks in your anti-corruption strategy, of slow progress in fighting the organised crime…'"
Rosen Plevneliev: "Bulgaria has done a remarkable progress. If you look for example at the GDP per head ratio, 15 years ago Bulgaria was 27 per cent from the average. Yes, the poorest. But today we do have 47 per cent."
euronews: "But people are emigrating…"
Rosen Plevneliev: "I cannot stop my people, they are free. And they contribute also to their motherland. And we keep a very strong contact with them. And we know as the country is developing, is modernising – and that what we do now in Bulgaria – they will come back."
euronews: "Bulgarians and other East Europeans, their workers are treated differently from the locals in countries like Germany (or) Britain…"
Rosen Plevneliev: "Divisions are taking different shapes and different formats. For example, the migration crisis is about to split the European Union within West and the East. The Western countries that say 'we are established democracies and we cannot agree with some of the countries on the eastern part of the European Union that are not willing to accept refugees.'
"On the other side if you look for example at the debt and economic crisis, that might split European member states into north and south.
"But no matter which divisions we are speaking about, the biggest crisis that will destroy all of us could be the moral crisis, the crisis of lack of solidarity within the European Union, the crisis of forgetting who we are, the crisis of lessons not learned from history."
euronews: "Given all these crises, would you advise Ukraine to pursue membership?"
Rosen Plevneliev: "I am sure that sooner or later this is going to happen. The European integration is your own process to modernise, to restore rule of law, to fight corruption, to create institutions that serve people not oligarchs. That's what I wish to see in Ukraine."
euronews: "Any option for Bulgaria to go back to Russia if it regains its strength and European Union declines?"
Rosen Plevneliev: "I've been living 25 years in Communism. And I know what is not to be a member of the European Union. I know what is to be alone. Or what is to be just a subordinate of a world power as the Soviet Union. I don't want this to happen again.
"I want Bulgaria to be a proud member of the European Union. That's the only way for us to guarantee our prosperity and to guarantee our safety and security."