Operation 'Euphrates Anger' underway in Syria
Comments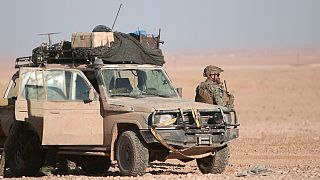 A new US-backed Kurdish and Arab offensive is underway aimed at retaking the northern city of Raqqa – ISIL's de facto capital in Syria.
The military action increases pressure on the militants at a critical moment with its fighters already battling an assault by Iraqi security forces on their remaining Iraqi stronghold in the city of Mosul.
The Raqqa campaign was announced by members of the Syria Democratic Forces (SDF) saying the campaign, called 'Euphrates Anger', had started late on Saturday.
A Kurdish woman announces plan to retake #Raqqa from #Isis. (When Erdogan goes backward, we step forward). https://t.co/tmebotBqdp

— Kamal Chomani (@KamalChomani) November 6, 2016
The SDF alliance, which is dominated by the Kurdish Popular Protection Units (YPG) militia, has emerged as a key ally of the US-led coalition over the past two years, leading the fight against ISIL on the ground in northern Syria.
The inclusion of the YPG has drawn opposition from Turkey prompting an unannounced visit to Ankara by the US army's highest-ranking general.
The meeting between Joseph Dunford, Chairman of the US Joint Chiefs of Staff, and General Hulusi Akar, was a sign that Washington and Ankara were in "close contact", said a US envoy.
Turkey views the YPG as a terror organisation and at the same time objects to the expanding Kurdish influence in its neighbour, Syria. Turkey had said Raqqa would be targeted in its own operation against ISIL in the region.
The people of Raqqa have been under ISIL control for the last two years. The US was keen to launch an offensive take it back at the same time as the Mosul assault in order to stop ISIL fighters retreating from Iraq to Syria.