Deal to reunite Cyprus within reach, UN chief Ban says
Comments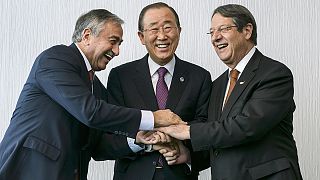 A deal to reunite the divided island of Cyprus is within reach, UN chief Ban Ki-moon has said at the start of five days of United Nations led talks in Switzerland.
Urging the island's rival leaders to seize the opportunity, Ban said negotiations between Greek Cypriot President Nicos Anastasiades and his Turkish Cypriot counterpart Mustafa Akinci will focus on the question of territory and security.
"The prospect of a solution in Cyprus is within their reach. Expectations in both communities are high. Cyprus offers tremendous hope to people around the world that a long-standing conflict can be resolved peacefully through negotiations," United Nations Secretary-General, Ban Ki-moon said.
A Turkish invasion in 1974, triggered by a coup attempt by Greek Cypriots seeking union with Athens, split Cyprus.
Since then it has remained divided, with the northern third of the Mediterranean island controlled by Turkish Cypriots and the southern two-thirds controlled by Greek Cypriots.
The latest talks are expected to focus on possible land swaps to address the claims of those islanders who fled their homes in 1974.