Western support for Kurds is abetting terrorism - Erdogan
Comments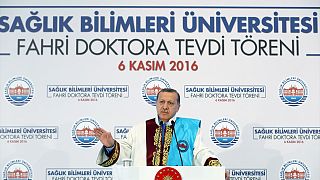 The Turkish President says Western support of Kurdish forces is abetting terrorism.
Recep Tayyip Erdogan told a university audience in Istanbul he doesn't care if critics call him "a dictator".
"They (Western critics) should not concern themselves with trifles. We know well who they are, we have studied their history closely," Erdogan told the audience.
"I got to know them very well during my 14-year-old tenure as a prime minister and a president."
"I can now read them like an open book. I don't care if they call me a dictator or whatever else. It goes in one ear and out the other."
The context
Erdogan's statements come as he cracks down on the PKK militant group and its supporters.
Turkey has drawn international criticism following the detention on Friday of the leaders of the pro-Kurdish HDP, parliament's second largest opposition party, as part of a terrorism probe.
The government accuses the HDP of links to the PKK, which the party denies.