Turkey's pro-Kurd opposition announces partial parliament boycott
Comments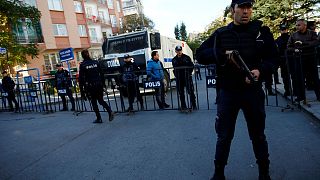 Turkey's pro-Kurdish opposition has announced a partial boycott of parliament, after the controversial detentions of it co-leaders and other lawmakers.
The Peoples' Democratic Party, or HDP, says its deputies will stop taking part in sessions of the legislature or meetings of parliamentary commissions.
"After discussions with our parliamentary group and our central executive board, we have decided to halt our legislative efforts in light of the most comprehensive and murkiest attack in our democratic history – and meet our people once again," said Ayhan Bilgen, an HDP spokesman.
The HDP's co-leaders have been jailed pending trial as part of a terrorism investigation. Ten other party lawmakers were also detained, but some were later released.
Turkish Prime Minister Binali Yildirim said on Sunday that the HDP had been funding terrorism and that anyone harming the nation would pay the price.
The government accuses the HDP of links to the Kurdistan Workers Party (PKK) militant group, which has waged a three-decade insurgence for Kurdish autonomy. The HDP, parliament's second-largest opposition party, denies direct links.
Meanwhile, President Recep Tayyip Erdogan has accused Europe of abetting terrorism and said he did not care if it called him a dictator.