Renaissance masterpiece damaged in Florence flooding restored
Comments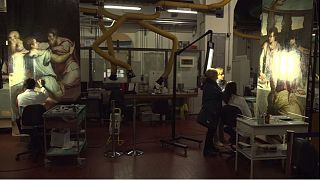 Fifty years after being badly damaged in massive floods in Florence, a Renaissance masterpiece has been unveiled to the public.
The presentation of Vasari's Last Supper – repaired only over the past decade thanks to new techniques – coincides with numerous events to mark the anniversary of the disaster that struck the city in 1966.
The Prime Minister and other officials have taken part, thanking those involved in the massive clean-up.
Millions of pieces of art were lost or damaged, but a lot was saved thanks to an army of local and international volunteers who became known as the "Angels of the mud".
One foreign volunteer, Dutch art historian Renny Van Heuven, was among those there for the anniversary.
"We were always busy with laying (out to dry) paper and books, old books," she said. "But I also cleaned sculptures. For instance, in the crypt of the Santa Croce and …. that was totally filled with oil."
At least 35 people died in the floods in Florence with thousands of people left homeless and scores of shops forced out of business.