No sign of civilians or rebels leaving Aleppo despite Russian airstrikes pause
Comments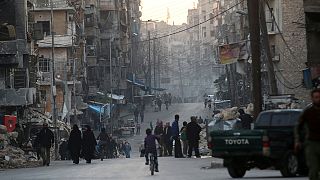 A Russian pause in airstrikes on the Syrian city of Aleppo does not appear to have encouraged any civilians to leave or rebels to surrender, as Moscow had hoped.
Buses waiting for civilians sat empty as the 10-hour pause came and went, and even the Syrian government, backed by Russia, said it did not expect anyone to leave.
One woman standing near the buses said: "I wish our brothers in East Aleppo to leave safely and peacefully. I wish that peace can return to all of Syria, not just Aleppo."
The UN also said it could not use the Russian announcement of a unilateral pause to send in aid to Aleppo because not enough security guarantees were given.
Syrian government videos show heavy fighting has continued in Aleppo, where some 250,000 people are trapped.