Mosul battle: Iraqi forces hold positions on eastern outskirts
Comments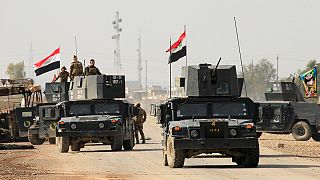 Iraqi forces are holding their positions on the eastern outskirts of Mosul, as bad weather hampered their operations.
Special forces are going door-to-door in Gogjali district checking buildings for booby traps left behind by Islamic State militants, who have had two years to build up their defences.
The pause comes one day after coalition forces breached the city limits for the first time since the offensive began three weeks ago.
Reports emerged that ISIL fighters have executed dozens of prisoners, and taken thousands of people hostage to use as human shields. The UN cited testimony that ISIL is attempting to displace Hammam al-Alil's population of around 25,000 to protect the militant group against air and artillery strikes.
Some of those fleeing Mosul, have found a safe haven at the Khazer camp, but they need more aid as colder weather sets in.
"We need blankets and clothes in this rain, we have young children," said Mosul resident, Abu Soud. "We left our homes with nothing, I only have the clothes I am wearing. We were freezing this morning, we have nothing with us, my children have (no clothes)."
Aid Agency, the Norwegian Refugee Council says that almost 200,000 have fled their homes and aid workers are bracing for the worst, with an estimated one million people still left inside the city.