At least 25,000 people are displaced after Italian earthquakes
Comments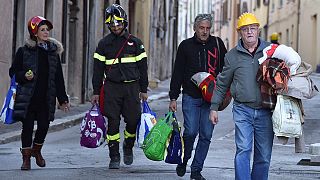 Sunday's 6.6 magnitude quake is Italy's strongest in decades
Number of displaced is put at 25,000 since August
PM promises massive reconstruction effort in quake prone region
Sunday's powerful earthquake – the fourth to strike central Italy in three months – has left yet more people homeless.
Estimates by the country's Civil Protection Unit put the number at 25,000 since the first deadly quake in August.
Sunday's early morning 6.6 magnitude quake doesn't appear to have killed anyone but about 20 people were injured. An evacuation of buildings in the region deemed vulnerable to seismic activity last week, following strong aftershocks from August's quake, may have saved lives.
Tremors from this latest earthquake were felt in the capital Rome, where the Metro system was shut down, and as far away as Venice in the north.
Cracks in St. Paul Outside the Walls: Are Hundreds of Papal Predecessors Shaking Heaven? https://t.co/Qag4dqpJV6

— Frank Walker (@CanonTwoTwelve) October 30, 2016
Locals in central Italy who can't or won't leave the region say they are desperate:
"We've not been given tents, we've not been given houses, we've not been given caravans. For the houses will have to wait until the spring. I don't understand where we'll live this winter if we are not given caravans, or tents or an alternative situation."
"We have to find somewhere, we can't go into tents or stay in our cars, look at this weather – it's not the right moment. We have a saying when faced with an impossible choice ..'we either we eat this soup, or we jump from the window'."
Italy's Prime Minister Matteo Renzi has promised a massive reconstruction effort regardless of the cost but that can't begin soon enough for some who have been taken on buses out of the region for safety.
The Mayor of Norcia, Nicola Alemanno, whose village was near the epicentre of Sunday's quake told reporters that it is unclear how many people now need accommodation:
"Last morning we had 853 people in independent accommodation and 275 people in hotels. We don't know how many people are left the city but it's clear that the new earthquake changed the scenario,…. and many more people are to be added to this very long list."
Along with homes, schools and businesses much of Italy's medieval heritage has been reduced to dust in the last few months including the almost complete destruction of the medieval basilica in Norcia. It was erected in St Benedict's name and has now only its facade left standing.
Basilica of St Benedict in Norcia before and after earthquake Sunday… #terremoto#ItalyEarthquakepic.twitter.com/RSPQCz8UwY

— Thomas D. Williams (@tdwilliamsrome) October 30, 2016
Seismologists are warning the earthquakes could go on for weeks in a domino effect along the central Apennine fault system.