"Rome was woken by shaking" - eyewitnesses describes Italy's huge earthquake
Comments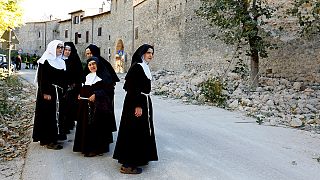 What has happened?
Central Italy has been shaken by another powerful earthquake.
The tremor measured 6.6 on the Richter scale.
It has caused the collapse of buildings and historic churches in small cities and towns already shaken by tremors in the past week.
How big was it?
The quake measured 7.1 according to an initial estimate by the US Geological Survey.
This was later revised to 6.6.
It is the biggest earthquake since almost 300 people were killed in central Italy on August 24 by a quake that levelled several small towns.
Has anyone been killed?
No deaths have been reported so far.
However, there is widespread damage.
Buildings damaged include the historic basilica of St Benedict in the centre of Norcia, a town near Perugia in Umbria.
An eyewitness account
Residents in Rome were woken up when their homes began to shake.
Euronews Editor-in-Chief Gardenia Trezzini was one of them.
"Rome was woken up by shaking, we ran out into the street, there was a real feeling of danger. We met our neighbours down there, everyone was terrified."
"Now the panic has subsided, lots of people in Rome come from Le Marche and Umbria, the region most affected."
"Telephone lines are overwhelmed. People are in the street, trying to call their families who are in the affected areas to make sure they are ok."
"There is still a feeling of instability. I am in the house and I have the impression that the ground is still shaking under my feet.
"There is no actual shaking now, the lampshades are not swinging dangerously like they were during the quake, but there is still a feeling of instability. It is as though the body can sense the deep movements underground."
A series of earthquakes
Sunday's earthquake follows a series of tremors that have struck the country in the past five days.
It was felt as far north as Bolzano, near the border with Austria, and as far south as the Puglia region a the southern tip of the Italian peninsula.
A series of strong earthquakes struck the area on Wednesday.