Bridge collapses on busy road in Italy
Comments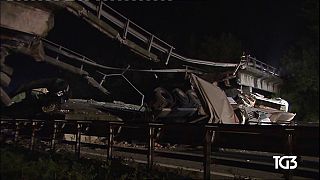 One man was killed and five others hurt after a road bridge collapsed on a busy road in Italy. The incident took place in Lecco, near Milan on Friday evening.
The bridge buckled when a truck weighing more than 100 tons drove over it. That sent the vehicle and concrete structure crashing down, totally crushing one car below.
Anas, the Italy's road agency has blamed local authorities, saying it called for the crossing to be closed hours before Friday's accident.
Prosecutors have launched a criminal investigation.
''It appears as if the bridge had quite a troubled history. Problems and dangerous incidents were already being reported 10 years ago,'' said Lecco Prosecutor Antonio Chiappani.
Anas claims local officials demanded the information about the bridge in writing. That would have led to a formal inspection. But the bridge had collapsed before an inspector could arrive.
Local officials have denied the road agency's version of events.